Birthday Party Bus and Limo Services
Los Angeles is fun and awesome place to celebrate your birthday with friends onboard our luxury Party Bus or Hummer Limousine, there are a lot of upscale Hotels, restaurants, lounges and bars to go and have a great birthday. Los Angeles party buses come in different sizes and specifications, all of them have Awesome sound system with Ipod hock up to keep the party going, infamous pole, multiple bar areas, laser disco light shows. Los Angeles Limo Buses can accommodate 10-40 Passengers and very affordable, fun and smart way to transport your party to Hollywood and back. If you want to go out with your girlfriend and arrive in style to an upscale Beverly Hills restaurant for your birthday celebration, best transportation option in Santa Monica, Culver City, Venice Beach, Malibu, Pacific Palisades area will be Stretched Hummer Limousine, Cadillac Escalade SUV Limo or Chrysler 300 Limousine.If you are lucky girl who wants to celebrate crazy birthday party with bunch of your closest girlfriends in Hollywood or Pasadena, think twice about transportation on your special day, we have a special Excursion Stretched SUV Limousine with Birthday Party Special "Chitah" print interior, girls love this luxury limousine. So when you are planning your next party in Los Angeles Area please call Serpentine Limousine for Birthday Party Bus or Limousine transportation Services at 877.546.6818.
Birthday E450 Los Angeles Party Bus Limousine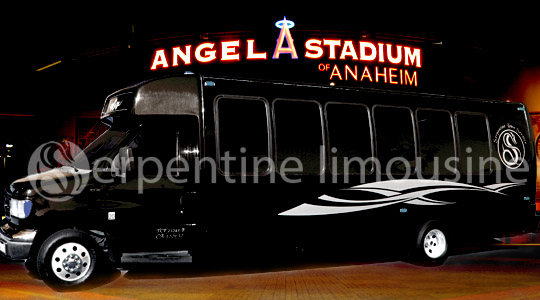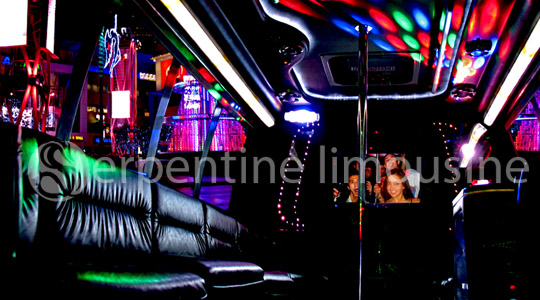 Los Angeles Party Buses can accommodate up to 40 Passengers, great choice if you have a bigger group of friends coming out on the night of fun you will never forget! Los Angeles Party Bus Limousines feature Laser disco light shows, multiple bar areas, premium sound system with Ipod hock up, Strip pole and much more, perfect transportation option for birthday party in Orange County, Los Angeles, Inland Empire. Los Angeles Stretched Hummer limousines perfect for groups up to 18 passengers, feature same amenities as Los Angeles Party Bus but you can't dance or walk around in a limousine. Serpentine Limousines also offers weekly specials for Los Angeles residents on your next Birthday Party Bus or limousine transportation services.
CALL 877.546.6818 OR 714.724.3321 FOR FREE QUOTE TODAY